"When Hitler Stole Pink Rabbit" Summarys of chapters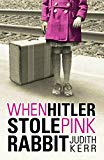 Summary of chapter oneThe author
Judith Kerr
tells the reader about Anna, a Jewish girl who lives with her family in Berlin. It is winter time, February 1933. She has a girlfriend called Elsbeth. On their way home from school Anna and Elsbeth are talking about a picture of Adolf
Hitler
- he is a canditate for the election. He wants to stop the Jews. But in Anna`s eyes he cannot stop R. Lowenstein who is form captain in their class. Anna`s brother Max who is twelve years old has a conflict with the Nazis at his school. Anna meets Fräulein Lambeck, their neighbour who asks about her father who is a famous writer for a radio station in Berlin. He is ill, lying in bed with a flu, and
when
Anna asks about her father`s well-being she gets a more or less angry reaction from her parents especially her mother. The next morning Anna realizes that Papa has gone.
Chapter two
Formularbeginn
In this chapter Papa leaves home without saying goodbye to Anna and Max. Mama explains to them the circumstances and gives them strict order not to tell anyone about Papa`s departure. She also tells Anna and Max that they all will follow him on the election day to Switzerland. The reason is the fear of taking away their passports by the Nazis. They go to school like every day and there nobody asks them any awkward questions, so they are reassured for the time being. In the evening they play outside
when
Anna meets Fräulein Lambeck, who asks about her father. So Anna lies the first time and is very furious
when
she comes home. At home she meets uncle Julius and Mama. Uncle Julius brings a message from Papa in Prague who feels well and wants to meet them in Switzerland.
Formularende
Chapter 3
Formularbeginn
Heimpi and mama arrange everything for the journey. One night someone burns down the Reichstag. After that Uncle Julius loses hope, that they get back to Berlin in a few weeks. They leave Heimpi and Anna is frightened about leaving her for the train. Anna feels a little strange and sick, later on she gets ill. Mama is very nervous and she only loosens her hold on her handbag with the tickets,
when
Anna calls her attention to it. Max and Anna get bored during the travel which goes from Berlin to Stuttgart, approximately.
Formularende
Chapter 4
Formularbeginn
Anna, Max and her mother are still on the train to Stuttgart. A few minutes later their train stops there, they get out to find a taxi, but they can`t get one, because there is a strike, probably because of the election. But then they discover a hotel on the opposite side of the square and stay there overnight. The next morning they get up early to catch the train to Zurich. Before that mama warns the children to say any word to the passport inspector in the train and explains that she doesn`t want to draw attention, because of Papa`s famous name.
When
they are sitting in the train, tension is growing and mother is nervous and the children are bad tempered, because the frontier to Switzerland is coming nearer and nearer. But
when
the train stops at the frontier, everything goes well, the passport inspector just stamps their passports and suddenly all the tension falls from mama and the children. Relieved the children ask the woman in their compartment what there is in the box and are so excited about the cat called "Mogger" that they just can`t stop laughing. Finally they arrive in Zurich, happy to meet their father there and to be together again.
Formularende
Chapter 5
They stay in the best hotel in Zurich. They`re talking about everything that has happened since Papa left Berlin. After that they make a sightseeing tour through Zurich. Anna doesn`t feel so good. Mama and Papa are talking about
Hitler
. Papa is afraid that people will vote for
Hitler
. Max disagrees and says that many boys are against him. Anna feels really bad, she has a high temperature and swollen glands. During her illness she has bad dreams. After four weeks Anna is healthy again. She has a conversation with Max and asks about Heimpi. Max explains to her that she cannot come, because
Hitler
has won the elections. Papa has to stop his writing and because of that he is out of work and cannot pay the ticket for Heimpi. Max tells her that the Nazis have pinched their property and that they cannot go back to Germany. In that moment Anna remembers her lovely
Pink Rabbit
and realizes that she will never see it again. Oh!
Chapter 6
Formularbeginn
Mama, Papa, Max and Anna have left Zurich and moved to one of the villages at a lake near Zurich in Switzerland. They make friendship with Mr.Zwirn, the owner of the Gasthof and his family. Max and Anna go to school and become familiar with the Swiss dialect and different customs. They learn that girls have to go round the sides in class while only the boys have the right to walk down the center aisle. The boys are all sitting in two rows on one side, the girls on the other side. Anna learns furthermore that love between boys and girls is shown by throwing shoes at the beloved girl. One Sunday morning Uncle Julius visits them and talks about the books that have been burned in Germany. Among these burned books, there have also been Papa`s works. He also tells them, that Heimpi has found a job with another family and that their old house is still empty.Although Papa has no difficulty in writing , he has difficulty in getting his work published. Julius also informs Papa that some mutual friends have been arrested by the Nazis, others have escaped to America.However difficult the time is, Julius is still not bothered about staying in Berlin as his only intention are the monkeys at the Zoo.
Formularende
Chapter sevenAnna starts to visit school again in Zurich, where she makes some friends. It is quite difficult for Anna to understand why boys and girls are not allowed to have contact to each other at school. Anna`s new girlfriend Vreneli is jealous because she has played with the red-haired boy. The red-haired boy and his friends follow Anna on her way home and throw gravel and their shoes at her. Then they shout her name. Anna runs home and her mother comes out to help her. Anna doesn`t understand why the boys have done this. Her mother catches one of the boys and asks him, why they have done so. And the boys answer that they love her. After she has heard that she stops to play with the boys and starts to turn to Vreneli again. Therefore Vreneli forgives her.
Chapter EightOn her tenth birthday, Anna is sad about not having a birthday party as usually and she is shocked by the simplicity of the presents. They make a boat-trip to an island where Anna is bored and disappointed by a visit at a literary society and the lack of attention.Her father recognizes her loneliness and shows sympathy with her situation.He consoles her and tells her that he thinks about leaving together for France or England.At last Anna is very proud of her father; she has more hope and she accepts being a refugee.
Formularbeginn
Chapter tenPapa goes to Paris and starts writing for the Daily Parisian, a newspaper which is published by German refugees. Anna`s grandmother Omama comes with her dog Pumpel to visit them in Zurich. She also is a refugee and lives in the South of France. During her stay, Pumpel disappears and then someone finds him dead in the lake. It is a terrible time for Omama. She suspects, Pumpel`s death has something to do with
Hitler
. Mama and Omama are talking about people who are sent to concentration camps. They talk about a professor who is chained by the Nazis to a dog kennel. He has to bark like a dog.
When
Anna hears the conversation she feels sick. Mama notices it and changes the conversation. The next morning Omama starts packing for her departure.
Formularende
Formularbeginn
Chapter 11Papa gets the oppoortunity to write for the Daily Parisian in Paris. Therefore, Papa takes Mama to Paris in order to show her that city. They want to make the decision to live in Paris, although Mama doesn't like the idea very much as she has never learned French whereas Papa speaks French fluently. They inform Max and Anna that they leave to Paris for 2 weeks. Max and Anna have to stay in the Gasthof Zwirn. Papa turns responsibility over to his children in saying that they have to behave better than others as a lot of people have stereotypes about Jews. Papa and Mama and Max and Anna alternately write postcards to each other. One day, Max and Anna don't get a postcard, but learn from Franz and Vreneli that the Nazis have put a price on Papa's head. Anna doesn't understand what "putting a price on someone's head" means and, therefore, gets a nightmare. The day after, they don't get any postcard. Anna takes it as an evidence that the Nazis have caught Papa. But Max explains to her what it really means. Some days later, Mama and Papa return to Switzerland and Anna confesses to Papa that she was worrying about his head. Papa takes it ironically and agrees to her worrying, because he is upset about the low price for his head. He wants to write a letter to
Hitler
in order to complain. Anna understands his irony and feels better.
Chapter 12On their journey to Paris they nearly take the wrong train to Stuttgart. Anna realizes it at first and they can change into the right train just in time.On their way to their new home they have their first impressions of the city. After they arrive the kids explore their new flat, which is quite small. But they all are happy to be together.Also they meet Grete, who comes from Austria to study French in Paris. She is paid for helping in the household. It is the first time that Anna sees her mother cook for them, but Mama burns her first self-made meal.
Chapter 13They have breakfast on the first morning after the arrival and they begin to like their new flat, because they have a place on their own. In the afternoon Papa makes a sightseeing tour through Paris with the children. On the next day Mama wants Anna and Max to buy a pencil for each of them for their first French lesson with Mademoiselle Martel. With the help of a dictionary, Anna manages to get a cheaper pencil, although Max wants to give in and to buy the more expensive pencil. So they each save 20 centimes. Then they have to begin the French lessons with Mlle. Martel in which they have to write their own compositions. Shortly before Christmas Mama says that they will have to go to school soon. On Christmas Eve the whole family have a little Christmas tree. Anna and Max get a few small presents, among them is a parcel from Uncle Julius. In it she finds a letter among other things. He writes that he regrets that he didn't listen to the advice of Papa to leave Germany. Julius. Finally they have a Christmas dinner and celebrate their new life in France.
Formularbeginn
Chapter 15It is Anna`s first school day in Paris.At school no one speaks German and Anna understands nothing. A girl called Colette takes her to her classroom. At first she is very nervous, because forty girls are staring at her, but in the end it turns out that they are very friendly. Madame Socrate, the headmistress, gives the pupils lessons in dictation, maths and music. With 142 mistakes Anna's dictation is a disaster, but in arithmetic she is very good. Anna is very happy to be back at school and that she is able to play with other children again, whereas Max is very unhappy with his school, because he feels like an outsider. He feels like that, because he can't speak French properly. Anna is optimistic that they'll learn French sooner or later and Max is ambitious to learn it very fast.
Formularende
Chapter 16
Mama and Anna visit Great-Aunt Sarah who is Omama's sister. For 30 years she has been working in Paris, but her husband died some years ago. Now, she is taking care of needy children. Therefore, she invites old rich ladies for their charity. From them she gets money as well as all kinds of provisions and pieces and clothes. After welcoming each other, Anna tells her that her skirt hardly covers her pants. Mama and Anna feel ashamed for that, but Sarah immediately offers some clothes and pieces of cloth. They don't want to accept them, but in the end they do. Both go home most satisfied and are looking forward to telling it to Papa. In contrast to Mama's expectations, Papa goes furious but finally, he agrees that Anna looks a bit needy. Although he doesn't like the idea, he accepts Sarah's charity.
Chapter 17Anna and Max and their Mama go to the Fernands to have a dress-making session. While Madame Fernand sews the clothes, Mama plays the piano, because she never learned sewing.At first Max is not very happy about having a dress-making session, but after he sees Francine his mood changes. Francine shows them her new games compendium which is equal to the one Max and Anna have left in Germany. They play several games together and get friends.Anna thanks Aunt Sahrah for the clothes by writing a poem.
When
aunt Sahra reads it she is enthusiastic.
Chapter 18It`s spring time and everybody wants to linger in the sunshine. Anna is getting better at school. Mama is getting a really good cook.The summer, especially July, is very hot. Nobody can concentrate on lessons at school. On July 14th the anniversary of the French Revolution follows. Everybody has a holiday.After that in the summer holidays a letter arrives from Herr Zwirn. He wants to invite the whole family. They decide to spend their holidays there in Switzerland.They have a beautiful time. Everything has stayed the same. The children bath and play with the Zwirns as if they have never been away.They all have a pleasant time.
Chapter 19After the holidays Anna goes to school as always. But that year it is harder than before, because Anna's class prepares for an examination.At home she gets depressed by trying to make her homework. Then Mama comes on and sees Anna doing nothing. They start to quarrel.Mama takes her to an expensive café to calm her. After a talk between mother and daughter Anna feels better.They come to the decision that if Anna still feels that she can`t manage her problem at school till Christmas they will do something about itMama writes a letter to Anna`s teacher. So Anna`s teacher helps her again.One morning Anna meets Colette and suddenly Anna is able to speak French without translating it into German. For Anna it`s like a miracle and she has fear to lose it again. But her knowledge of French stays. Once or twice she makes mistakes but most of the time she speaks French just as if she speaks German.
Formularbeginn
Chapter 20It's Christmas. In France the main celebration is not at Christmas but on New Year's Eve. The
Kerrs
celebrate this special day with the Fernands. In the morning, they have got a postcard from Onkel Julius which makes Papa worry, because this card is written in a different way than the time before.There might be something wrong with him.In February, Mama catches flu. After Grete's departure, she has much to do with the housework and feels gloomy. Papa cannot understand Mama's problems and they have a quarrel. Papa brings a present for Mama, a sewing machine which is for calming Mama. But this machine is an antique and does not work. With the help of Mme Fernand, they get the money for this machine back and use it for Anna's new shoes. Mme Fernand is very gentle and borrows her sewing machine to Mama and all are happy.
Formularende
Chapter 21Omama arrives before Easter and is horrified about the little flat, but a bigger one would be too expensive. The children are doing extremely well, for instance Anna is going to pass the certificat d `etudes. Papa is very well informed about French history, especially Napoleon, so he is able to help his children with their homework.After passing the examination Anna gets a prize of about 20 FF for one of the twenty best French compositions written by a child from the mayor of Paris.Max is also honoured by the school for being best pupil in class with the prix d`excellence.Everybody is happy.
Chapter 22Because of their financial problems they stay in Paris during the holidays. Anna and Max feel bored. Papa is waiting for an answer about his film script and Mama gets easily upset by small things. Papa forgets about the due day and
when
the concierge comes for the rent she gets in trouble with Mama about their broken bed. After some angry words against Jews Papa pushes the concierge through the front door. Mama sends Anna and Max to the cinema, to have a talk with Papa. They decide to go to England. Anna is in fear of losing her parents and she wishes that they all can stay together.
Formularbeginn
Chapter 24Mama, Papa, Anna and Max leave Paris after having lived there for two years. It is time to say good-bye to their friends, the family Fernand. Everybody leaves with a different feeling. Mama is quite happy to leave. Anna and Max liked the time in Paris and Papa would like to come back now and then.
When
they arrive in England, they are welcomed by English weather. The weather is similar to the weather of their first departure from Germany. But this time, the inner feelings are optimistic. Although Anna and Max do not speak a word of English, they are looking forward to learning about the new language and culture. They realize the difference between France and England, no one pushes or jostles at the platform, everybody wears a macintosh, policemen wear helmets etc. Anna admits to herself that she has not had a difficult childhood because the most important thing to her is that the whole family has always been together. This fact does mean that Anna does not believe in her famous future, because she finds that she has not had a difficult childhood, but it has become unimportant to her.
Formularende
Inhalt
Zusammenfassungen von allen Kapiteln des Werkes "Als Hitler das Rosa Kaninchen Stahl" von Judith Kerr. (Summaries of all chapters of "When Hitler Stole Pink Rabbit" by Judith Kerr).

Länge: 6 Seiten (3150 Wörter)
Hochgeladen
von unbekannt
0 weitere Dokumente zum Thema "Judith Kerr - When Hitler Stole The Pink Rabbit"

68 Diskussionen zum Thema im Forum
Wenn du dieses Dokument verwendest, zitiere es bitte als: ""When Hitler Stole Pink Rabbit" Summarys of chapters", https://e-hausaufgaben.de/Hausaufgaben/D1341-Judith-Kerr-When-Hitler-Stole-Pink-Rabbit-Summarys-of-chapters.php, Abgerufen 04.10.2023 21:16 Uhr

Es handelt sich hier um einen fremden, nutzergenerierten Inhalt für den keine Haftung übernommen wird.