Summary - The curious incident of the dog in the night-time von Mark Haddon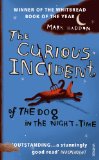 Summary
The curious incident of the dog in the night-time
Christopher John Francis Boone is a fifteen years old boy who suffers from the Asperger's Syndrome.
He lives with his father in a small town named Swindon. One day he discovers the dead body of Wellington, the poodle of the neighbour Mrs. Shears, speared by a garden fork. This
incident
is the first climax of the novel.
Since he has been blamed for this, Christopher starts an investigation to clear himself of the suspicion. Meanwhile he decides to record and write down all of his findings as the investigation proceeds. Christopher also meets people throughout his investigation he has never met before, although they are living in Randolph Street.
After a while the action starts rising again. Christopher's father, who had forbidden him to investigate the Wellington's murder, finds the book and after a
big
argument with his son he hides it somewhere.
The next day Christopher looks for his book in his father's bedroom and while doing so he finds a bunch of letters from his mother, addressed to Christopher. She lives in London now with Mrs Shear's husband. Christopher's father did tell him that his mother died of a heart attack. Christopher's disappointment and heartache leads into an even bigger fight with his father.
The fight reveals that Christopher's dad killed Wellington after having an argument with Mrs. Shears. Christopher is afraid of his own dad now and his actions, because he thinks that if he killed a
dog
he might be able to kill his own son. So Christopher runs away from home and goes to his mother who lives in London. .
Christopher's mother is really very happy to see her son, however, Mr. Shears and Christopher's father have several heated arguments with each other.
Meanwhile, Christopher wants to take his A-levels in math at his school, which is a special school, so his mother moves back to Swindon with him.
At the end of the story, Christopher's father gets his son a
pet dog
and Christopher is taking his math A-levels with best grades. The ending is still open, because the relationship between Christopher and his father is still quite difficult and a reader doesn't know how the family life will continue, since the parents still haven't made up with each other.
In my opinion, the most important and turning point of the story is the part where the autistic main character shows his strong will and independence while dealing with difficult life situations.
Inhalt
Zusammenfassung von dem Buch "The curious incident of the dog in the night-time" von Mark Haddon (420 Wörter)
Hochgeladen
von unbekannt
0 weitere Dokumente zum Thema "Mark Haddon - The Curious Incident of the Dog in the Night-time"

987 Diskussionen zum Thema im Forum
Wenn du dieses Dokument verwendest, zitiere es bitte als: "Summary - The curious incident of the dog in the night-time von Mark Haddon", https://e-hausaufgaben.de/Hausaufgaben/D5197-Hausaufgabe-Englisch-Summary-The-curious-incident-of-the-dog-in-the-night-time-von-Mark-Haddon.php, Abgerufen 28.05.2023 12:07 Uhr

Es handelt sich hier um einen fremden, nutzergenerierten Inhalt für den keine Haftung übernommen wird.